Brasserie d'Avril: the tradition from Apulia and parties in villas
September 27, 2018
"Brasserie d'Avril on the road has been on the market for three years and for the first couple of seasons we've been working on festivals and private parties, this year we are focusing on parties only", tells Vito d'Aprile, owner of the Fiat Ducato foodtruck that carries the Apulian cusine to private events.
"Everything started from my business, a restaurant I've owned for sixteen years, Brasserie D'Avril, the foodtruck was a mean to gather more visibility for the activity and our cuisine. Since we desired to take on the road not a single product but many of our specialties Fiat Ducato seemed to be the perfect vehicle".
"At the moment the foodtruck is very appreciated at parties in villas and gardens around us. Every venue is different, but the interest in a new concept of catering, on wheels, is the same. An idea that seems to be winning, since we are receiving lots of bookings. despite the fact that we've decided to operate only in the 20km around our location, in Monopoli!"
Brasserie d'Avril on the road, is connected to its territory not only throught the choice of operating locally only but also because it offers a wide variety of local and traditional recipies: starting from puccia, a rounded sandwich filled with parmigiana, octopus, meat...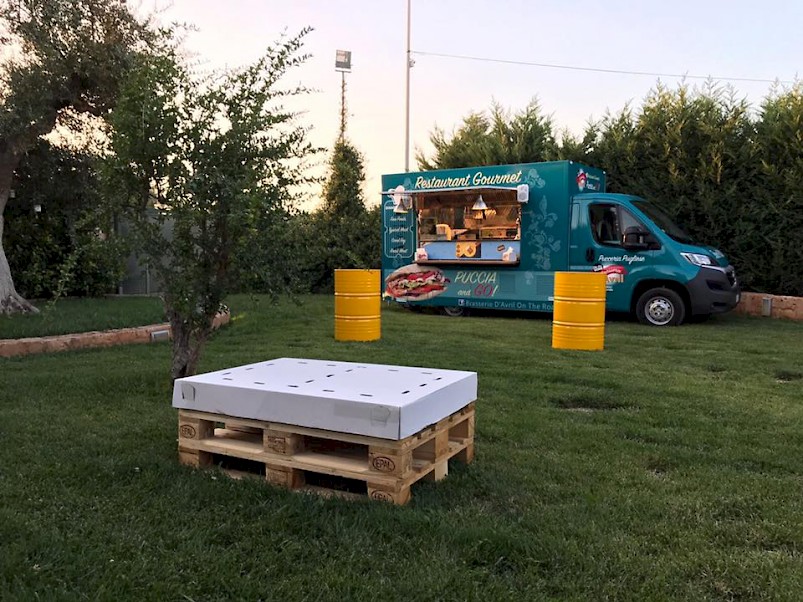 "It would be great to keep on working locally but also to enlarge the activity one day", tells D'Aprile, adding a wish addressed to those who have just started an activity on the road or are willing to do so. "It's important to believe in what you do and keep on working. For two seasons we've believed in our activity and now we have just created a new market on our region, dedicated to paties in villas".
If you wish to know something more on taking your business on the road, contact us at +39 055919431 or at info@streetfoody.it.