Apino streetbar: a bar on wheels on the Lake Maggiore
November 12, 2018
"Apino streetbar is a real bar active from morning to night. It's a café: a professional compact coffee machine was installed on board. But it also serves soft ice cream and icicles. And at the happy hour cocktails such as Spritz and Mojito, and Coronas", tells Marco, the owner of the orange Ape parked on the lakeside in Angera, a town on the shores of Lake Maggiore.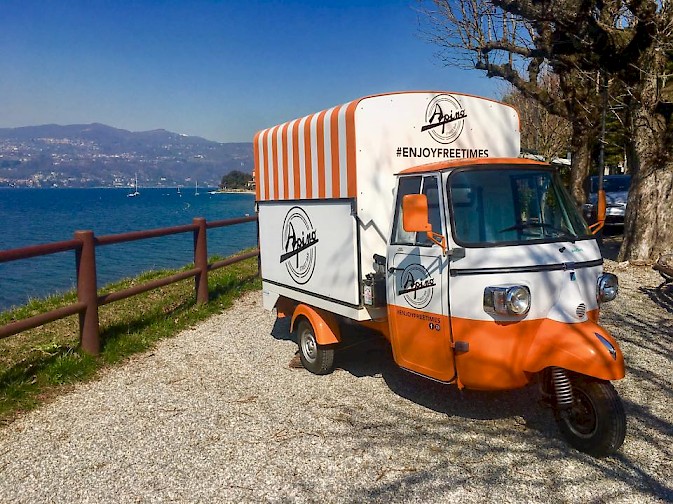 Marco is also the owner of Pizzeria Damino, a few steps away from the Ape: "The idea to create a bar on wheels come from the desire to enlarge our offer. Not only pizza, but also a bar for happy hours where clients can have a drink while waiting for a table at the pizzeria, or have a beer with friends".
The clients of the Apino are not only those from the pizzeria: "People that used to go to other places around the lake, now are coming here for a drink in the evening. Even tourists and beach-goers come for an ice-cream or a cup of coffee".
Apino is also open in the evening and during last summer it held a party sponsored by Corona, "who has sent some gadgets and flyers".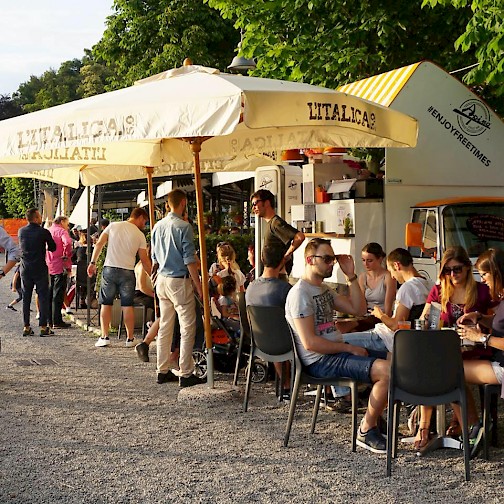 Apart form the activity on the road, Apino is also available for private parties, such as weddings and birthday parties. Marco tells us: "When we chose the Ape we did so because it's a fashionable and catchy vehicle, but also because we knew we wanted to take it to private parties and events".
In the future Marco wishes to organize more events, but also to reach "higher levels of quality in all three sectors: cafeteria, bar and ice cream".
"Even though food trucks are trendy and fascinating, in order to succeed you have to be able to propose a valid product, able to satisfy clients. In case the vehicle is working side by side with a restaurant it's important to offer extra services", Marco adds".
If you wish to get more infos on our vehicles, contact us at: info@streetfoody.it or +39 055 919431