APE PIAGGIO: HOW TO CHOOSE THE BEST SOLUTION FOR YOUR BUSINESS?
October 17, 2022
Iconic, with an inimitable style and a symbol of Made in Italy quality: the Ape Piaggio is one of the best-selling and most popular vehicles in the world. In the course of seventy years of history, it has established itself as a tool capable of generating new business opportunities in various sectors, becoming the leading solution in the field of street food.
Within our range, the Ape Piaggio holds a place of excellence: its compactness and versatility are essential features for the success of a sales and promotion project on wheels. The different models are designed to satisfy an infinite variety of objectives: the Ape Oyster, for example, has an innovative opening to ensure style and comfort for the operators on board, while the Ape Coperture offers the possibility of having direct contact with customers and present their products and services in an even more engaging way. Furthermore, even the choice of the type of engine represents a step of fundamental importance, and can bring unprecedented advantages for your business.
How to understand which is the solution that best suits your business? Let's see it together:
ELECTRIC APE: GREEN MOBILITY AND GREATER ACCESSIBILITY
In recent years, we have experienced the transition to greener mobility thanks to new environmental policies adopted by all countries in unison, and electricity has been recognized as a concrete solution to limit harmful emissions.
Choosing an electric motor for your Ape Piaggio Oyster or Coperture is advantageous from many points of view: first of all, it allows you to eliminate refueling and maintenance costs, since the batteries do not require recurring revisions and can maintain their autonomy for a long-time span. With an Ape Piaggio electric motor it is possible to access the ZTL areas, historic centers, or environments where there are restrictions on petrol or diesel vehicles. In addition, it helps to contain noise pollution, to preserve the quality of the air and to raise awareness among its customers on the issue of climate change.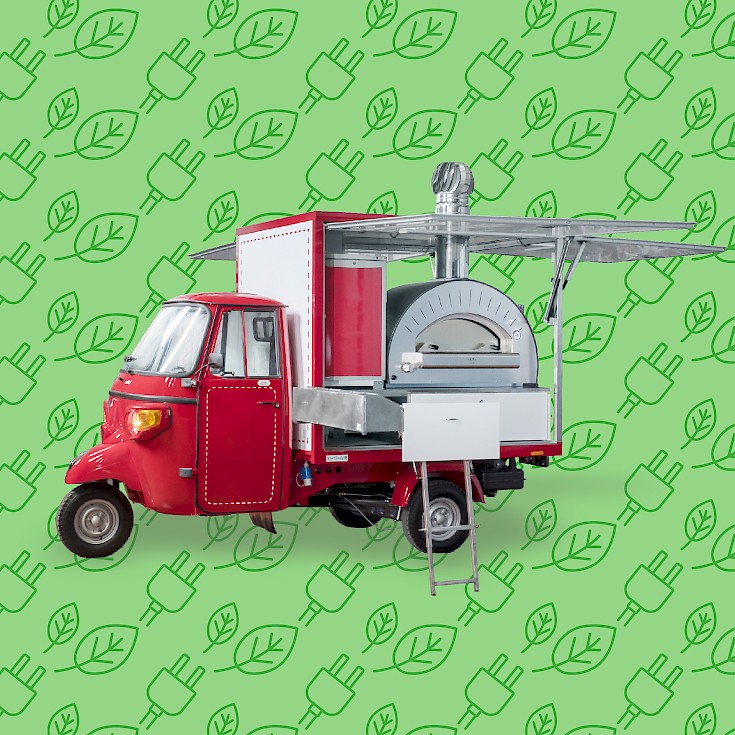 APE NO-POWER: MAXIMUM VISIBILITY FOR BRANDS AND STRUCTURES
An Ape Piaggio without engine is the ideal solution for all those businesses that want to create a fixed shop with maximum yield. A street food vehicle allows you to shorten the long waiting times for the start-up of your business and save on the fixed costs that the opening of a physical space entails, such as rental, registration and bills. Since it has no engine, it can be positioned inside all those places that see a high flow of passers-by: for example, inside an airport to cheer the waiting of passengers, or in a prestigious shopping center.
A no-power Ape can also be placed inside an accommodation facility, thus becoming a strategic lever for renewing with style and offering unique experiences to its customers. In fact, these are creative and flexible solutions that give rise to new opportunities for managing their spaces, both internal and external. In addition, they are the perfect allies to expand the services offered by the structure and try their hand at new fun and colorful experiences.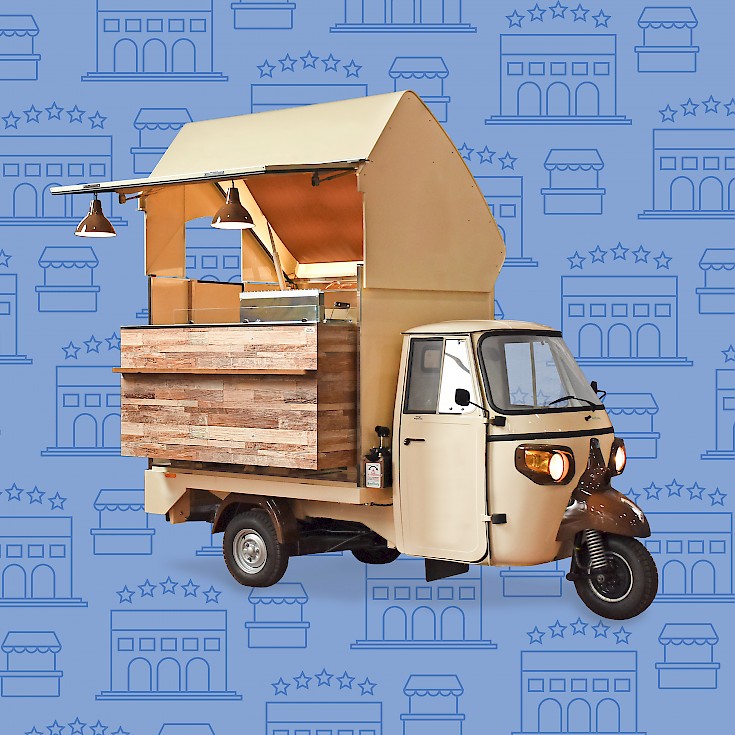 INTERNAL COMBUSTION ENGINE: PERFECT STYLE FOR ALL EVENTS
With the internal combustion engine, the Ape Oyster or Coperture is the ideal vehicle to participate in any type of event. Thanks to its compact size and agility, it can easily fit into the most strategic points of festivals dedicated to the world of street food, private events, weddings, or in the dehors of bars, restaurants and shops. The timeless style and the ability to completely customize the graphics allow you to get greater visibility in the midst of the competition and stand out in every situation, even in the most crowded events. For this reason, it is the most suitable vehicle to make every occasion special and unforgettable!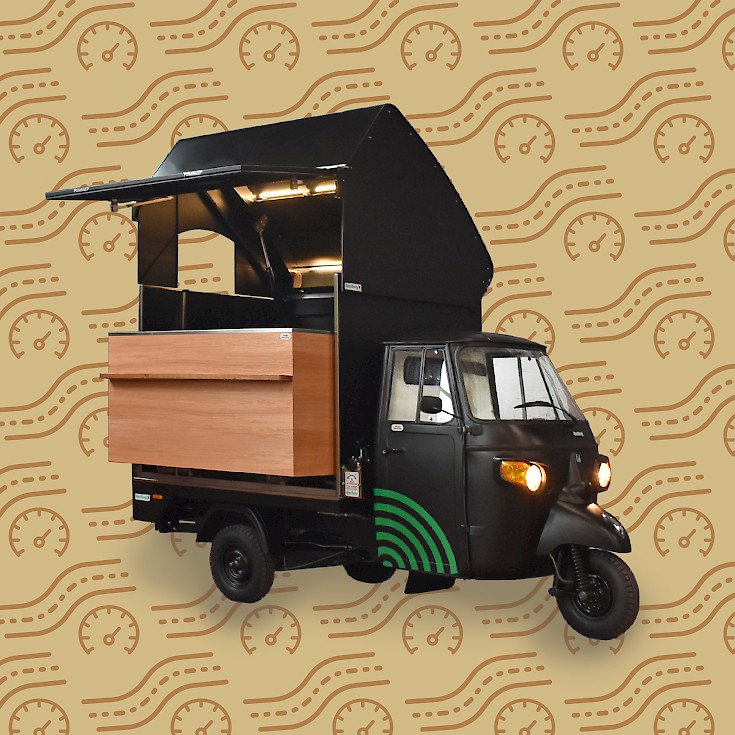 All that remains is to choose the Ape Piaggio with the set-up that best suits the needs of your business, and make the most of the infinite potential that this iconic vehicle has to offer.
Let's design your future Ape Piaggio together!
Tel: + 39 055 919431
E-mail: info@streetfoody.it
Indirizzo: www.streetfoody.i