November 2 – December 2: the StreetFoody Showroom is back!
October 24, 2022
The street food sector has experienced exponential growth in recent years, and the high-quality standards achieved have completely revolutionized the concept of "street food" commonly understood by public opinion. Modern food trucks are cutting-edge tools that open endless opportunities to innovate the sale and promotion of their products and services: all businesses can test themselves and experiment with new paths with a wheeled solution tailored to their needs and business objectives.
To touch food trucks firsthand and define a strategy for your business, there is no better place than the STREETFOODY SHOWROOM! From 2 November to 2 December 2022, you can be guided by a team of experts to discover our solutions on wheels and deepen all their features in detail.
During this month, the Showroom will be open every day from 8:00 to 12:00 and from 13:00 to 17:00 – excluding weekends – by appointment. In addition, you can choose whether to come and visit us directly at our headquarters in Terranuova Bracciolini (AR), or immerse yourself in a virtual experience and visit the Showroom comfortably via your smartphone or personal computer!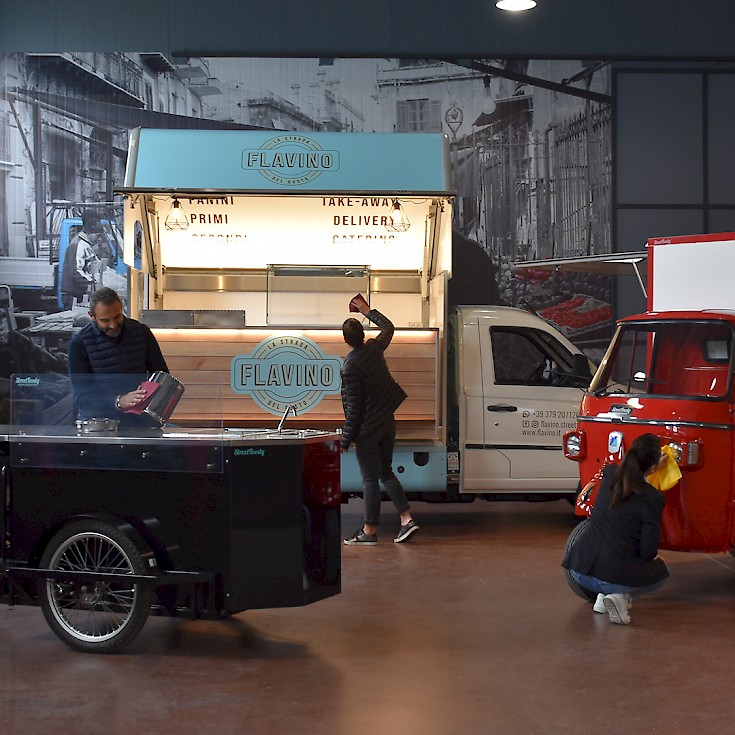 This year, we have prepared special events to further enrich your visit to the StreetFoody Showroom: 3 days dedicated to Food, Pizza and Gelato set-ups! Below, all the dates and the program of events:
Wednesday 9 November – 11:00 a.m.: FOOD TRUCK
Find out how to take your professional kitchen on the road and amaze your customers with legendary dishes! The Food set-up is ideal for any solution: from the Truck to the Ape, it is possible to create a restaurant on the road that meets all business needs.
Monday 14 November – 11:00 a.m.: PIZZA TRUCK
If your passion is pizza, save this date! Come and touch our unmissable solutions on wheels set up as a pizzeria: they are equipped with a wood, gas or electric oven and have well-organized spaces to make preparation on board easier.
Wednesday 23 November – 11:00 a.m.: GELATO TRUCK
Finally, it's the turn of the ice cream! Our ice cream trucks will be the real stars, come and try them in our Showroom: the Ape, the Carrettino and the Porter are suitable for many uses, both on the road and for exclusive parties and events.
Sign up now, choose your set-up and you will receive the relevant downloadable documentation to learn more about all the features and opportunities that our Food, Pizza or Gelato vehicles can bring to your business!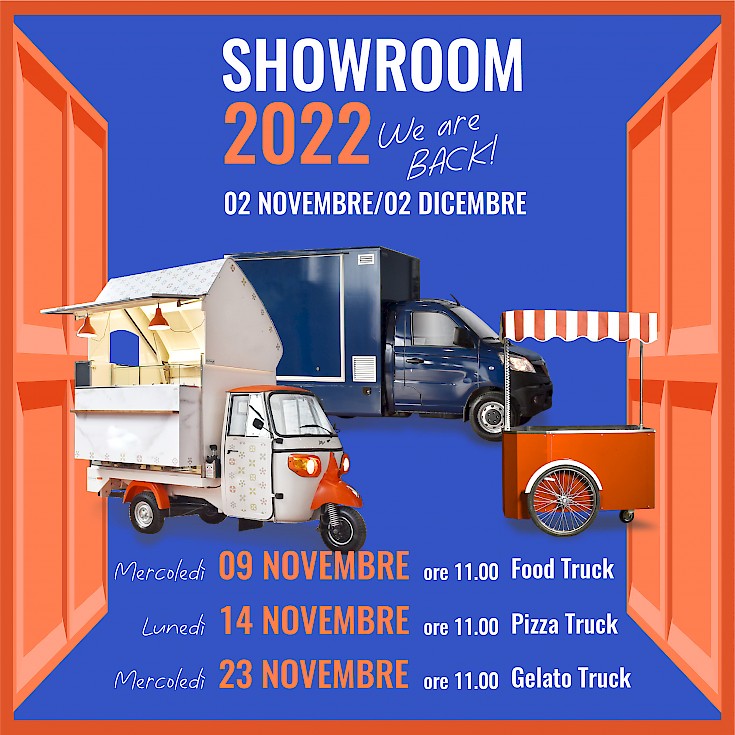 During these three unmissable events, the StreetFoody team will guide you inside the company with a tour of the factories and with a detailed presentation of everything there is to know about Food, Pizza and Gelato setups. Together, we will discover the market numbers of the various sectors, the performances that the different food truck models can achieve, the characteristics of the set-ups with a direct focus on the experiences of our customers, promptly responding to all your doubts or curiosities with a Q&A session with our experts. Subsequently, it will be time to test the vehicles: you will be able to touch finishes, furnishings and equipment on board. In short, this is the perfect time to start imagine your future food truck!
Don't miss this opportunity: whether it is to find out more about the world of food trucks, explore the opportunities for your business, or simply remove any doubts or curiosities about their versatility and composition, we are happy to welcome you and start building the road to the future of your business on wheels!
The StreetFoody team is waiting for you!
Tel: +39 055919431
E-mail: info@streetfoody.it
Address: Via Poggilupi, 1692
52028 Terranuova B.ni (AR)