Ape Hard Rock Cafe, legendary dishes for Catering and Delivery
January 26, 2021
Hard Rock Cafe Roma moves through the streets of the Italian capital on an Ape with a gritty and iconic character.
We asked the General Manager Hugo Mora to tell us why they chose the Ape and how the vehicle is used.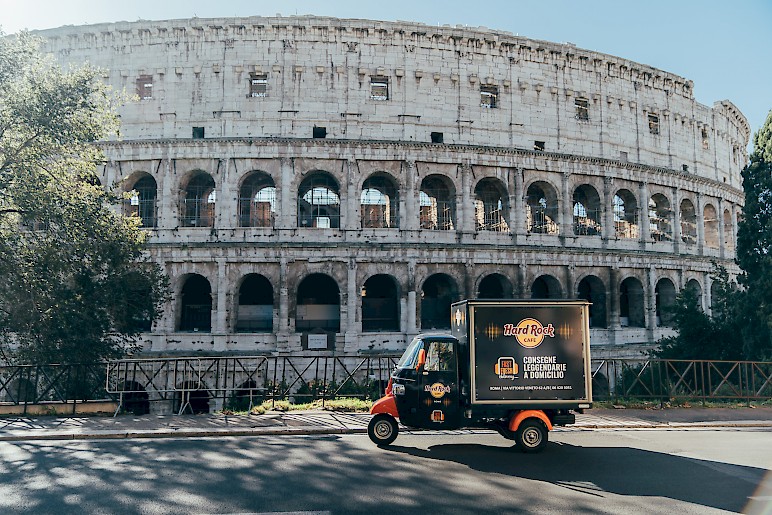 Why did Hard Rock choose a vehicle?
Hard Rock Cafe Rome launched in 2020 the new Delivery services with home deliveries and Catering for private and corporate events. We offer a selection of legendary dishes in order to supply the real Hard Rock experience even from home.
The idea of ​​using an Ape stems from the need to extend deliveries to different areas of the city, including those not served by the main Delivery services, and to participate in customized external events in pure Hard Rock style, thanks to an iconic and branded vehicle.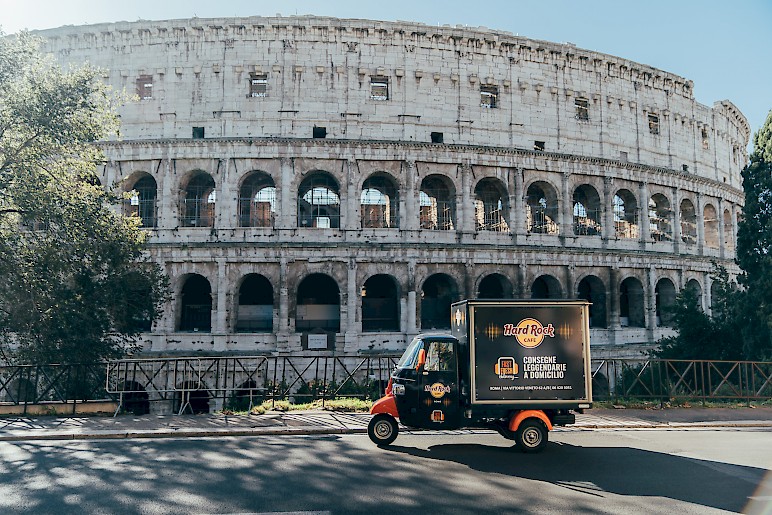 Why did you choose an Ape?
The Ape is a practical and characteristic vehicle, ideal for best representing the pillars of the Hard Rock brand which are authenticity, passion, irreverence and unpredictability.
Several times in the past Hard Rock has used the Ape to launch new products and services, but also as a Rock Shop to sell our merchandising at various events and, more generally, to promote the brand dynamically around the city.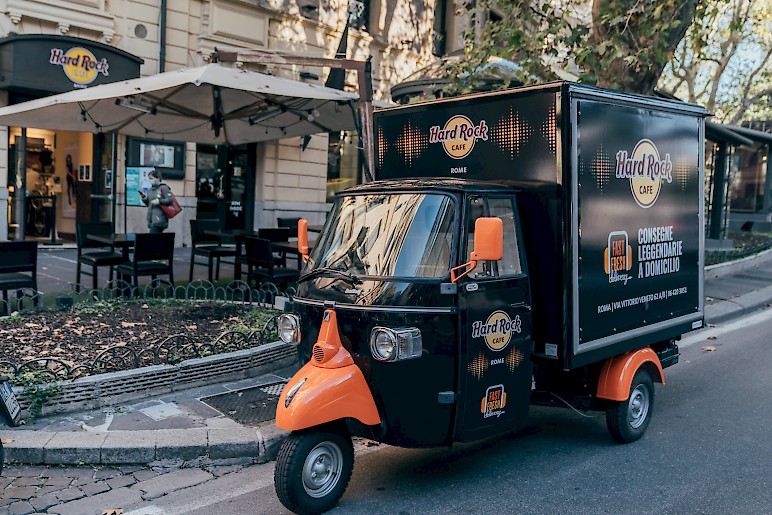 How is it used?
The Ape became a key asset of our Delivery services, from legendary home deliveries to catering, from the participation in themed events or simply as a vehicle for the brand's showcase.
Thanks to the Ape, it is possible:
to organize a corporate event that includes a lunch break delivered through the Ape
to insert the Hard Rock branded vehicle as an equipment in the catering of a wedding or festival
to create an unforgettable moment by simply taking a photo in front of the Ape during the delivery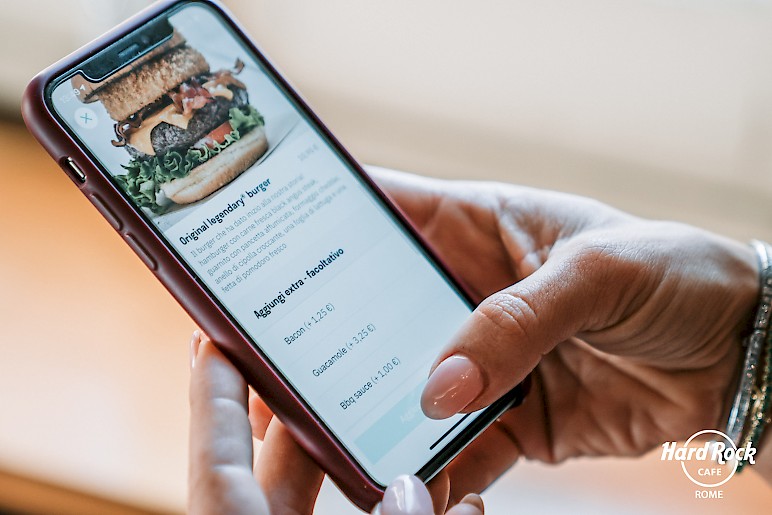 How strategic was the Ape during this period?
Surely the design and tradition of the Ape have contributed to the storytelling and communication of our services, both on social media and through promotional materials. The Ape effectively became an integrated support for our promotional campaigns, adding an emotional touch that reinforces the rock spirit of the brand.
Why did Hard Rock rely on StreetFoody? And how would you describe the experience?
StreetFoody was able to customize the Ape according to our project, providing assistance and support during all the planning and construction phases of the vehicle.

Photo credits: Alessandro Martino - Reply Studio S.r.l.