An ice-cream(y) winter
December 7, 2018
Who's been following us on social media knows it well: from 2nd to 5th of December we were at the Mostra Internazionale del Gelato artigianale in Longarone with five vehicles made for the occasion. Porter and Ape ice-cream, two carts and an Ape cafeteria to show to masters of gelato that it's possible to expand on the road their activity.
The Mostra is an international window on the best news about gelato and it's also the perfect occasion to discuss the best practices regarding the artisanal production of gelato and ice-cream. During the days in Longarone we had the chance to meet and discover excellencies in the ice-cream world.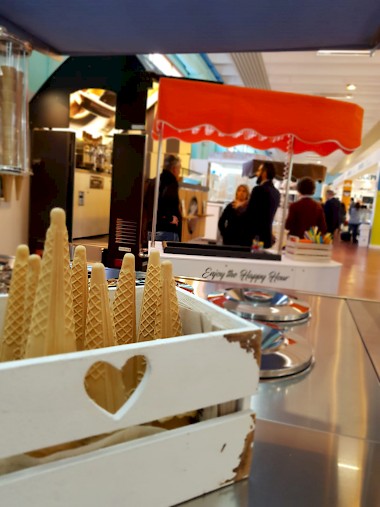 "This year many of the visitors were from other countries and they visited the fair to see the Italian excellence. Great interest was expressed towards our vehicles. Particularly towards Porter Flò and the Ape, a symbol of the ice-cream truck thanks to its vintage and ageless look", tells the team that took part to the event.
Our appointments do not stop here: January is a month devoted to ice-cream too (and bakery): Sigep 2019 is coming. At its fortieth edition Sigep, Salone Internazionale Gelateria, Pasticceria, Panificazione Artigianali e Caffè, will be held from 19th to 23rd January in Rimini. Come visit us at allo stand 041, pavilion C2!
And we will be there with some of our vehicles in order to meet all those professionals willing to bring their business on the road. From cafetierias to bakeries, and ice-cream parlours, every pre-existing activity can be renewed and renovated by enlarging on the road. But also those willing to start a new activity can find a great ally in a vehicle: it can allow them to test themselves and make their project come true.
If you too want to find out more about our vehicles and meet our team of experts, what are you waiting for? Contact us at info@streetfoody.com or at +39 055 919431.