Giamilla on the road porta la tradizione mediorientale della pita anche in Italia
June 5, 2018
"L'attività porta il nome di mia nonna che era turca, Giamilla", ci racconta Emanuela, proprietaria di un Ducato bianco e azzurro che propone lo streetfood mediorientale per antonomasia, la pita, a festival ed eventi in giro per l'Italia.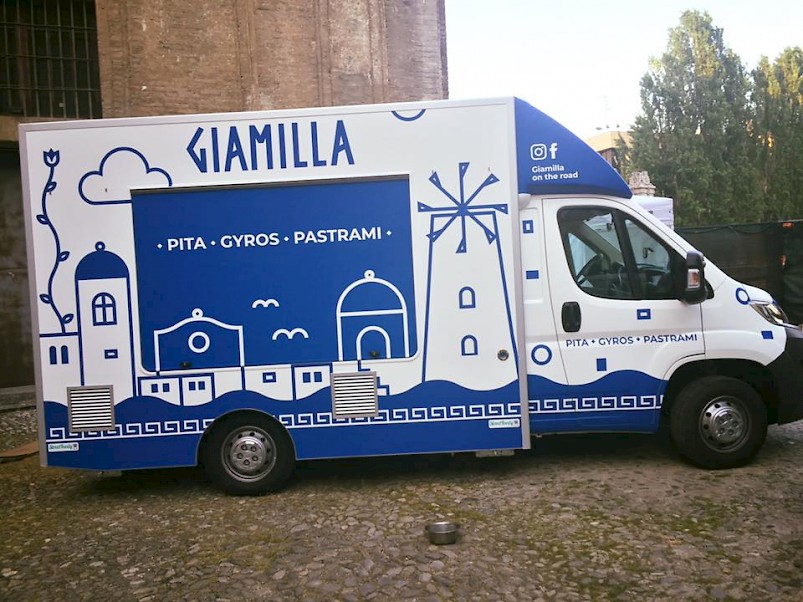 "La mia famiglia è di origine greco-turca e così nel 2015 ho deciso di portare on the road una parte della cucina della mia tradizione, quella ebraica, a bordo di un Porter Piaggio", continua Emanuela che, infatti, ha iniziato la sua avventura su strada a bordo di un mezzo più piccolo, di cui abbiamo già raccontato la storia, su cui serviva bagel con il pastrami e hamburger.
Da marzo di quest'anno, invece, ha deciso di ampliare il suo business con un veicolo da dedicare alla pita, uno streetfood molto meno conosciuto dell'hamburger - ormai molto presente agli eventi di streetfood - ma gustosissimo!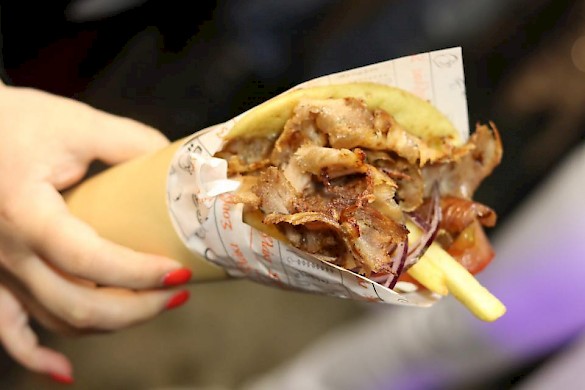 Giamilla on the road preprara "la pita con una miscela di farina di grano duro e di grano tenero e un pizzico di curry. E la si può farcire in quattro modi diversi: alla greca, con il gyros di maiale, alla turca con lo shawarma di pollo, alla libanese con i falafel, oppure all'israeliana con il pastrami di manzo". Un vero e proprio viaggio tra i sapori del Medio Oriente!
Tutti i piatti proposti da Giamilla on the road sono fatti con cura e con amore per la tradizione. E le salse e i condimenti sono così freschi che vengono preparati a bordo del veicolo. Le preparazioni più complesse, invece, sono cucinate alla base operativa di Giamilla, a Bergamo, dove al momento sono in fase di sperimentazione tanti nuovi piatti, come le frittelle di feta e pomodori secchi.
L'importante, però, è che tutte le proposte siano "vero streetfood che è possibile mangiare in piedi, perfino camminando", ci tiene a precisare Emanuela, fedelissima alla filosofia del cibo da strada.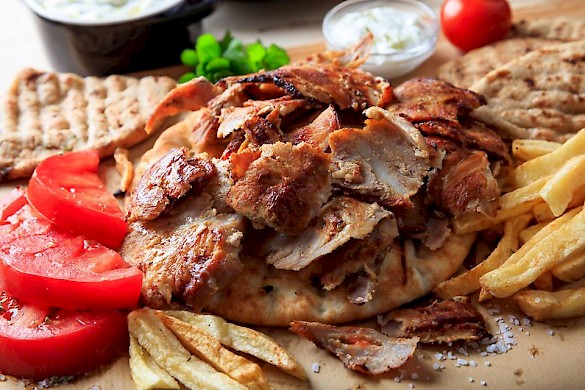 Se vi è venuta voglia di addentare una pita, Giamilla on the road parteciperà a numerosi eventi di streetfood tra la Lombardia e il Veneto e dal 22 al 24 giugno potrete trovare il Ducato bianco e blu anche all'Europa Street Food Festival di Pesaro!
E se anche a te piacerebbe ampliare il tuo business sulla strada, cosa aspetti a contattarci? Ci trovi allo 055 919431 oppure via email all'indirizzo info@streetfoody.it