You're invited to StreetFoody Day!
August 26, 2019
Monday 30th September from 10.00 to 17.00 we are waiting for you for a day of business on the road!
You are invited to our office, in Via Poggilupi, 1692 in Terranuova Bracciolini, to discover the world of street food and wheeled activities up close, through workshops, test drives, visits to the showroom and show cooking!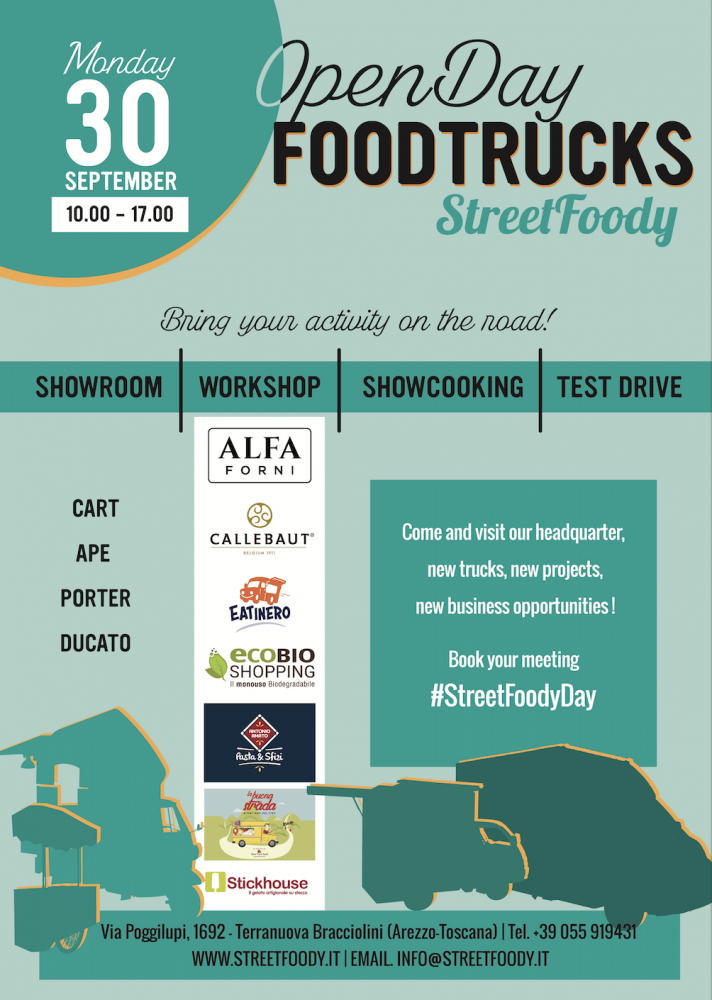 With us many guests like Slow Food Italy, who through the La Buona Strada project is also on wheels. And space also for international companies such as Callebaut, a leading Belgian multinational in pastry chocolate and ice cream.
There will also be Italian guests who have made themselves known abroad for the value of their products, such as Alfa Forni, a company from Anagni which exports its pizza ovens all over the world, as well as installing them on our Ape pizza!
And again: Stickhouse, which combines the originality of Italian ice cream with the convenience of ice cream on a stick, to take everywhere, even on the road on a foodtruck. Pasta Antonio Amato, who brings the tradition of pasta to the road with a foodtruck.
And then Ecobioshopping and its ecological solutions designed for events and festivals. And finally Eatinero, a network of foodtruck and streetfooder ready to assist you in the realization of your dream event! Find out more about each of our guests here on the blog and come and meet them on Monday 30th September!
For information and reservations contact us at info@streetfoody.it or at +39 055 919431!